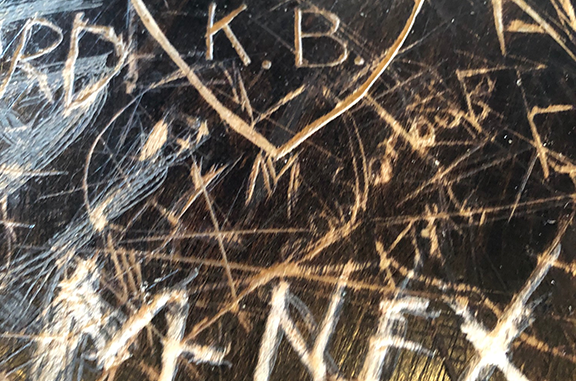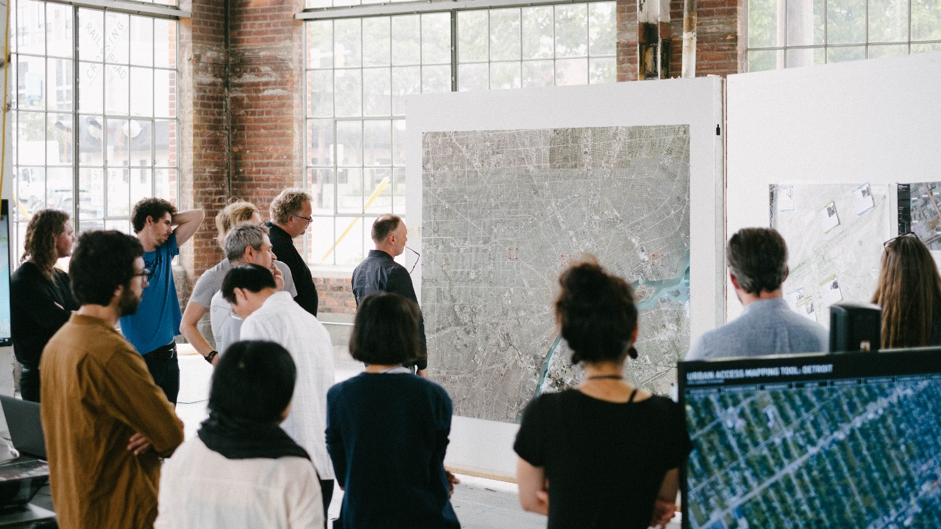 Image1: M-NEX team developing urban design schemes examining linear urban intensification and implementation of food access instruments during design charrette. (Image © Shun Nakayama).
Between 30th June and 5th July 2019, the Movable Nexus (M-Nex) team met in Detroit and Ann Arbor for the third workshop in a series of workshops to be held in each partner city. Building upon the themes of Technical food systems and the cityin Belfast and Building a Food Infrastructure in Qatar, the Detroit workshop focused on Urban Access and Food Security in the cityas a means to unpack the centrality of this issue in considering the application of FEW Nexus strategies towards urban design across all LivingLabs.
In the case of Detroit, the team was acquainted with the existing spatial fragmentation in the city, its industrial legacies, and current development strategies through previous team presentations and pre-workshop online lectures by Dr. Robert Fishman, Professor of Architecture and Urban Planning at U-M, on the topic Detroit and the Acceleration of Historyand Maurice Cox, Director of Detroit Planning and Development Department, on the question of Why Detroit Matters-presenting current efforts for development in the city. Key themes introduced during the Detroit workshop included: (i) Industrial Legacies and Urban Morphology, (ii) Infrastructural Impacts, (iii) Food Access, (iv) Actor Networks and Scales of Systemic Intervention, (v) Waste as Resource and Circular Systems, and (vi) Scales and Formats of Governance
The first day of the workshop provided an organizational overview and individual project progress, status of stakeholder engagement, and work package updates from all teams present. An initial guided tour of Detroit visiting multiple historic sites that in aggregate, assisted in illuminating core urban legacies, development models, infrastructural legacies and philanthropic capitalism. These locations included: the Cobo Center, Hart Plaza, One Woodward Ave, the Guardian Building, Campus Martius Park, Renaissance Center, Detroit Riverwalk, Dequindre Cut Greenway, Lafayette Park, Heidelberg Project, Packard Plant, Piquette Ave. Plant, Fisher Building, Cadillac Place, Detroit Institute for the Arts Campus, Wayne State University Campus and the Michigan Central Train Depot.
The next two days of the workshop were spent visiting the locations of project partners and stakeholders of the project including the Detroit Collaborative Design Center (DCDC), Oakland Avenue Farm, Detroit Water Resource Recovery Facility, Eastern Market, and RecoveryPark Farms. Through these interactions, the team was introduced to specific environments related to urban integration of agricultural systems within the Detroit context, water, health, food access and waste-related policy issues in the city, challenges linked to large-scale infrastructural legacies, issues of vacancy and the politics of resource(s) especially with respect to land, soil water, and capital. Further, through interactions with community leaders, project partners and local team members such as Jerry Hebron, Director of the Oakland Avenue farm, Winona Bynum-RDN, PMP, Executive Director of Detroit Food Council, and Anya Serota- Associate Professor of Architecture at U-M and founder of Akoaki, the team learned firsthand how the highly distributed population continues to remain underserved by physical and systematic infrastructures that resulted from a long history of racial segregation and exacerbated by urban abandonment, foreclosure, and disinvestment, as well as efforts to transform this situation.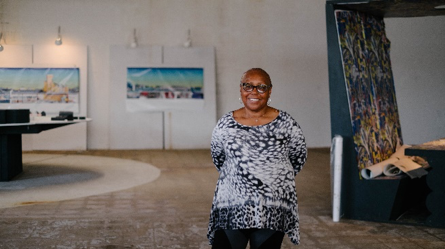 Image 2: Oakland Avenue Urban Farm Director, Jerry Hebron, welcomes the M-NEX team. (Image © Shun Nakayama).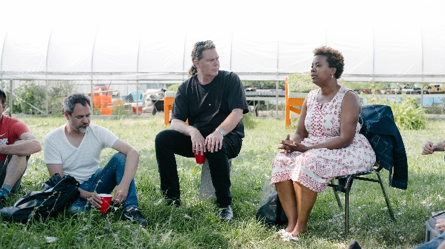 Image 3: M-NEX team in discussion with Winona Bynum, RDN, PMP, CSM Executive Director at Detroit Food Policy Council during a site visit to OAUF ( Image © Shun Nakayama)
Although the two farms visited by the team are nonprofit community based agricultural practices, they have distinct approaches to the food production and distribution network. Consequently, they have different socio-economic impacts on food access in the city. While Oakland Avenue Urban Farm, an initiative by the North End Christian Community Development Corporation, identifies itself as an "Agri-Cultural" organization working towards a sustainable neighborhood-scale urban agricultural practice, RecoveryPark, is an urban agriculture enterprise working towards establishing a for-profit businesses model in Detroit with a workforce comprising of Detroit residents facing barriers to job opportunities in the city. Thus, the two organization have different priorities, where one is trying to achieve a sustainable agricultural practice that stimulates neighborhood development and community-building through traditional models of urban farming and the other is experimenting with technical food systems to establish a profitable business model.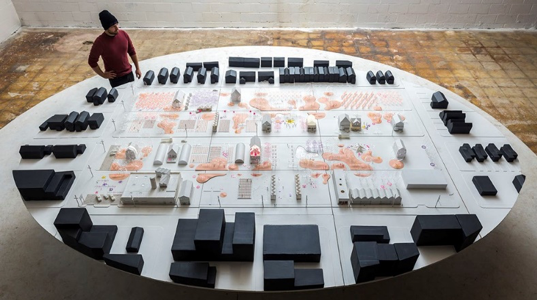 Image 4 : Oakland Avenue Urban Farm master plan site model indicating locations of future cultural programming, agricultural production, stormwater management, and localized energy production. (Image © Akoaki).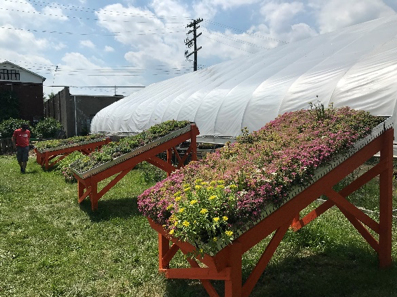 Image 5: Green roof system prototypes from a community workshop at Oakland Avenue Urban Farm.      (Image © RVTR/ U-M)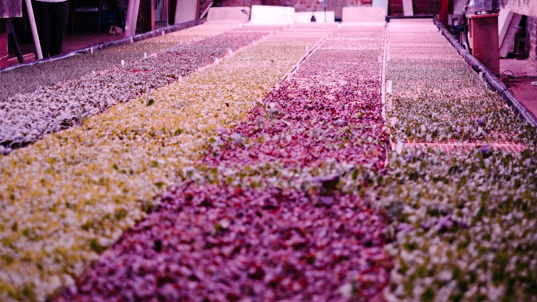 Image 6:Experimental hydroponic prototype at RecoveryPark Farms. ( Image © Shun Nakayama).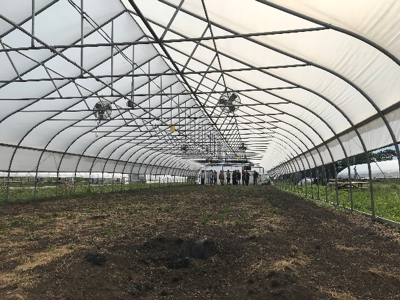 Image 7: M-NEX team visiting hoop houses at RecoveryPark Farms.(Image © RVTR/ U-M)
On Wednesday morning, the team arrived at the U-M's Liberty Research Annex in Ann Arbor for the second half of the workshop. The next few days went in unpacking the key themes and issues witnessed in Detroit and comparing it with other LivingLab contexts in Belfast, Tokyo, Amsterdam, Doha, and Sydney.  The presentation by the M-NEX-Detroit team on Equitable Food Access as Social Infrastructureand the demonstration of the Urban Access Mapping Tool (U-M tool), an interactive mapping tool that assembles demographic and economic data in a browser-based platform, facilitated a discussion on urban access, and the introduction to the broader theme of cartographic tools as a means to enhance approaches to stock and flow-based tools in development. The Tokyo team presented a GIS-based approach to access mapping predicated on distance analysis to food distribution sources coupled with source distances to existing agricultural sites outside the city.
Following these presentations, a design charrette was conducted utilizing the U-M tool and frameworks established by the Detroit team to develop approaches to urban interventions at three specific sites, while expanding the design approaches to FEW Nexus application. The sites were selected in different parts of the city, providing diverse urban typologies and contexts such as a vacant parking lot in New Center opposite to the Amtrak Station, a parking lot adjacent to a retail strip mall in Jefferson Chalmers and a vacant lot in Barton McFarland along Grand River Avenue.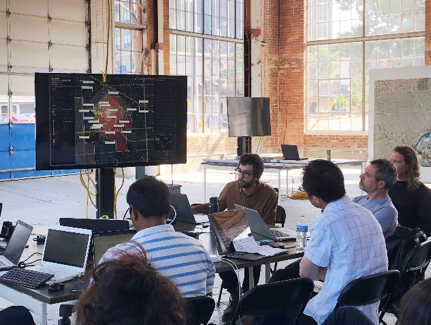 Image 8:M-NEX_DET team introducing Urban Access Mapping Toolto workshop participants.(Image © RVTR/ U-M).
Image 9: M-NEX team developing urban design schemes examining linear urban intensification and implementation of food access instruments during design charrette.(Image © RVTR/ U-M).
Later Kathy Velikov, (U-M), gave a lecture on Actor-Network Theory discussing the role of Actors, Agents, Assemblages and Apparatuses. Through a set of theories, interpretations, and precedents, she provided the team with a wide range of possibilities and outcomes of this analysis. Following the lecture, the Detroit, Sydney, and Belfast teams presented different approaches to actor-network mapping being undertaken by each team. The Detroit team had developed an integrated actor-network mapping of the food, energy and water nexus that qualitatively defined the relationship between elements in the network­; the Sydney team had utilized an online tool to assemble relationships between specific stakeholders engaged through the Sydney LivingLab, whereas the Belfast team developed an actor-network based on quantification of stocks and flows within the system and between actors. The session resulted in identifying and sharing various approaches to mapping this relationship while developing a common representational language, agreement to test online tools, and introducing quantitative stock and flow modeling with this work moving forward.
Climate Change became a central theme in the workshop, which was not addressed in the study so far. The M-NEX-Detroit team gave an overview based on existing projections of climate change within the Great Lakes region and outlined impacts expected within the Detroit urban context. Participating teams presented brief overviews of climate change implications for their respective cities. Some of the thematics identified across each city/region included elevated annual average temperatures, changes in rainfall patterns, and fluctuating spells of flooding and drought. A discussion followed outlining multiple scales and timeframes that each city team would need to structure design strategies moving forwards.
On Thursday morning, Nick ten Caat, Researcher (TUD), presented a version of the FEWprintcalculator. This Excel-based tool is used to calculate the environmental footprint of an individual based in an urban residential context. The calculations are based on per capita daily consumption of food, energy and water resources.  The toolsets up two scenarios a Business as Usualand a Sustainable Alternativescenario, as it formulates a method to evaluate the impact on the nexus while developing urban interventions. Participants undertook an application of the tool to a case study location from their respective city contexts enabling feedback regarding ongoing FEWprint development. CO2emissions were reconfirmed as the metric for food-energy-water evaluations across tools and analysis developed by the team. Additionally, the team agreed to develop Sankey Diagrams as a method of representing the various stocks and flows across each city FEW systems. The general consensus was to have a Quantification and Visualization of Food Impactreport for each of the six urban study sites, emulating the Belfast method of evaluation. These analyses will facilitate comparative evaluation between cities, regions, and countries.
The session ended with a brief discussion on policy requirements in each city and an overview of the design methodology to be adopted/developed by each city team to align design efforts and intervention moving forward. The team advocated modeling flows and connections at the global, regional and local scales, to ecologize urban agriculture in a context of climate change through the FWE nexus. The M-NEX team also agreed to work on preliminary drafts of chapters in the book proposal. Wanglin Yan and Rob Roggema presented the proposed contents of the book and assigned chapters to various team members. Yan and Roggema will lead this publication development and participating team members will submit draft chapters for review and comment in early Sept. 2019.
The final morning of the workshop focused reflected on the Detroit workshop content and planning for the next workshop in Sydney, to be held between 3rdand 8th November 2019. Later that afternoon the team visited the Cranbrook Educational Community campus in Bloomfield Michigan, to appreciate the historic center of education, science and art, featuring works by Eliel Saarinen, Albert Kahn, Steven Holl, Tod Williams, and Billie Tsien, and others.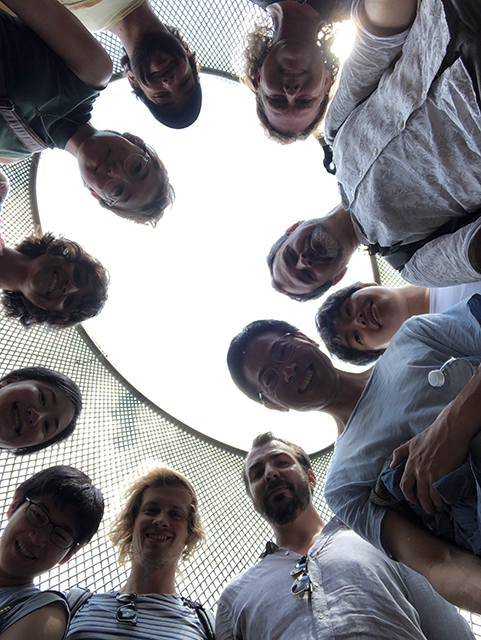 Image 10 M-NEX team visit to the Erb Family Garden designed by Landscape Architect Peter Osler in the courtyard of Cranbrook Institute of Science (Image © Wanglin).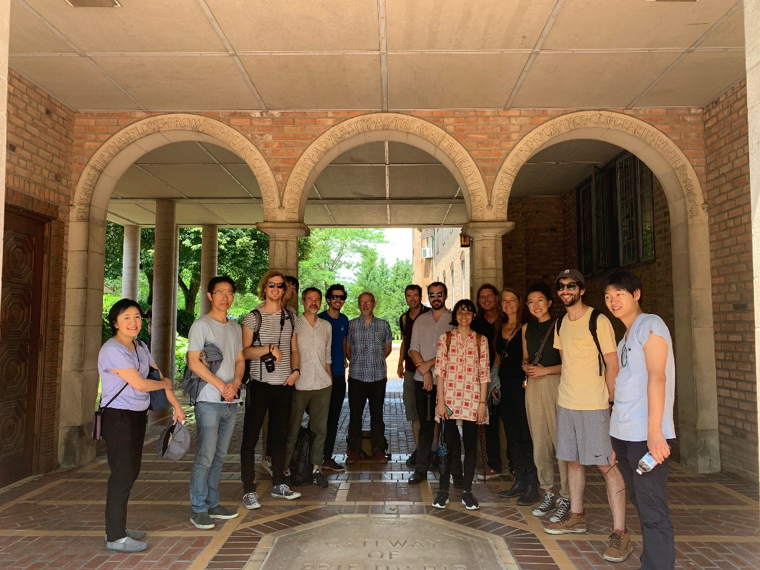 Image 11: M-NEX team visit to Cranbrook Educational Community. (Image © RVTR/ U-M).